Review Article
Review of malignant pleural mesothelioma survival after talc pleurodesis or surgery
Introduction
Malignant mesothelioma is a rare disease with an average of 2,000 to 3,000 new cases per year in the United States. Although malignant mesothelioma has been known as a clinical entity since 1947, the link with asbestos exposure was only established in 1960 when an epidemic was reported among asbestos miners. In the past century, asbestos has been widely used in construction and insulation because of its fire-resistant properties. Although western countries have banned its use for several decades, asbestos exposure is still a present threat because of its presence in old building and constructions, and because of the long mesothelioma latency period (1). The most common form is malignant pleural mesothelioma (MPM) accounting for 70% of all mesothelioma cases. The prognosis of MPM is still dismal despite the various proposed multimodal treatment plans (1). Because MPM is an aggressive tumor with a poor prognosis, finding the best treatment option is critical. Therapeutic approaches include surgery, chemotherapy, radiation and a combination of the above. Surgery still is the cornerstone in the treatment of MPM. The most important surgical strategies are extrapleural pneumonectomy (EPP) and radical pleurectomy decortication (P/D) (2). Both surgeries have a beneficial role in alleviating symptoms (2). A recent meta-analysis concluded that the short-term mortality was significantly higher in the EPP group compared to the P/D group (3).
Currently, new palliative treatments, such as talc pleurodesis, are being explored. Talc pleurodesis has been used in the treatment of malignant pleural effusion (MPE), a common complication of advanced malignancies especially breast and lung cancer (4). Talc is distributed over the entire pleural surface by administering it as a dry powder, usually during thoracoscopy, or as slurry via a chest tube (5). Thoracoscopic talc poudrage showed to be an effective and safe procedure in patients with MPE with a high rate of successful pleurodesis and a positive effect on decreasing dyspnea (4).
To date, there has been limited research on the use of talc pleurodesis and only one randomized clinical trial directly compared talc pleurodesis with video-assisted thoracoscopic partial pleurectomy (VAT-PP) (6). Therefore, we performed a comprehensive review to compare survival rates between surgery and talc pleurodesis in patients with MPM.
---
Methods
Search strategy and selection criteria
Original research studies that evaluated survival after surgical interventions or talc pleurodesis in the treatment of MPM were identified by searching the National Library of Medicine and National Institutes of Health PubMed database through June 2016. The search strategy included the following keywords: "mesothelioma", "malignant pleural mesothelioma", "talc pleurodesis", "pleurectomy" and "pneumonectomy". Reference lists from all retrieved articles, including the reference lists of previously published reviews on the treatment of MPM, were also reviewed in search of additional eligible articles. Original research published between 1990 and 2016 was included.
Studies were considered eligible if they met the following inclusion criteria (Figure 1) (1): MPM patients who underwent either talc pleurodesis-including video-assisted thoracoscopic (VAT), pleurodesis with talc poudrage, thoracoscopic talc poudrage, talc slurry via chest tube, and tube thoracostomy with talc pleurodesis- or surgical resection-including EPP, pleuro-pericardium-pneumonectomy, P/D, and pleurectomy (2); data on survival were provided or could be extrapolated from published results (3); studies included at least ten patients (4); studies were written in English. Studies were excluded based on the following reasons: (I) meta-analyses or reviews; (II) lack of key information for calculation of survival; (III) repetitive data or duplicates. When multiple studies were published using the same group of patients, only the study with the largest number of patients and the most complete data was included.
Data extraction
All relevant characteristics were extracted from the studies including author, publication year, number of patients, mean age, gender, histology, treatment, survival. Several studies reported survival for multiple types of surgery. The results from each surgical group were imputed separately and the type of surgery was specified if possible. The primary outcome of the study was survival including mean survival, 1-, and 2-year percent survival.
Data analysis and statistical analysis
Median and mean survival in months were extracted from each study. When the median survival was reported in days, the value was divided by 30.5 to convert it to months. Median survival times were converted to mean survival times with an estimation of the standard deviation from the ranges provided (7).
R 3.3.1 and R Studio version 0.99.902 were used to statistically combine the results of individual studies and to produce a summary estimate that takes into account the weight (size) of each study. The combined percent survival was calculated using random effect models. Heterogeneity was tested using the Q statistics and the I2 statistics. The I2 statistic was used as a confirmatory test for heterogeneity with I2 <25%, 25 to 50% and >50% representing a low, moderate and high degree of heterogeneity, respectively (8,9).
---
Results
Search results
The PubMed search yielded 159 articles which were screened by title and abstract (MM). This resulted in the exclusion of reviews and meta-analyses (n=16), articles lacking survival data (n=17) or specific MPM treatment (n=4) and articles older than 1990 or with less than 10 study participants (n=6). The remaining 116 articles were fully reviewed by two independent reviewers (MM; MvG), resulting in the exclusion of another 46 articles; 14 articles lacked percent survival or survival time and 32 articles had repetitive data or were duplicates of already included articles. When the two researchers did not come to an agreement on whether or not to include or exclude an article, a third researcher was consulted (ET). Of the 70 articles eligible for analysis, 21 articles had insufficient data to calculate survival and were therefore excluded (Figure 1). The remaining 49 articles were included in the analysis and provided 70 different patient treatment groups (Table 1). These datasets were assigned to the "talc", "EPP", "P/D" or "surgery unspecified" group independently from any additional treatment. Because mesothelioma has a low survival rate, most patients undergo additional treatments such as chemotherapy, radiotherapy. We therefore assumed that most patients received other treatments besides surgery of talc pleurodesis which justifies grouping these different datasets together independently from the additional treatment status.

Table 1
Description of included studies
Full table
Studies characteristics
There were 5 articles reporting on survival after talc pleurodesis; the size of the studies ranged from 26 to 172 patients (Table 1). There were 19 articles, including 26 different patient treatment groups, reporting on P/D, with sample sizes varying from 10 to 202 patients (Table 1). Twenty-eight articles, including 31 different patient treatment groups, reported on EPP with sample sizes varying from 12 to 529 patients (Table 1). Seven articles reported on unspecified surgery with sample sizes varying from 21 to 284 (Table 1). Most of the patients were male (≥58%) across all study groups. The overall mean age for the talc pleurodesis, P/D, EPP, unspecified surgery group were 67.5, 60.9, 57.6 and 58.4 years, respectively. Epithelial/epithelioid mesothelioma was the most frequent histology which was also consistent for all study groups.
Mean survival
There were 3 datasets (6,11,12) that reported information to calculate the mean survival for the talc pleurodesis group; 3 (6,15,20) and 10 (31-33,39-43,48) datasets reported mean survival for the P/D and EPP groups, respectively. The mean survival in the talc pleurodesis group was 14 months [credibility limits (CL): 8.6–39.9] compared to 17 (CL: 11.6–21.8) and 24 months (CL: 10.5–18.3) for the P/D group and EPP group, respectively. There was high heterogeneity across studies for the EPP group (I2=93.8%; Q =145.7, P<0.0001) (Figure 2).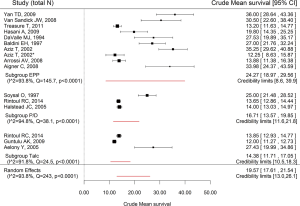 Figure 2 Mean overall survival. *, EPP without chemotherapy. CI, confidence interval; I2, statistic for heterogeneity; Q, statistic for heterogeneity; EPP, extrapleural pneumonectomy.
Overall survival
Two datasets reported the 1-year overall survival for the talc pleurodesis group (6,10): the values were 17% and 57%. Thirty seven datasets reported 1-year overall survival for P/D, EPP or unspecified surgery (Table 1). The pooled 1-year overall survivals in the P/D and EPP group were 55% (CL: 21–87%) and 67% (CL: 3–89%), respectively, with significant heterogeneity [I2=85.0%; Q=93.6 (P<0.001) and I2=94.8%; Q=759.2 (P<0.0001), respectively]. The pooled 1-year survival for surgery independently from the type of surgery was 62% (CL: 38–84%), with significant heterogeneity (I2=78.6%; Q=167.6, P<0.0001). Two datasets reported the 2-year overall survival for the talc pleurodesis group (10,13); this ranged from 10% to 13%. Forty eight datasets reported 2-year overall survival for P/D, EPP or unspecified surgery (Table 1). The pooled 2-year overall survival in the P/D and EPP group were 32% (CL: 8–63%) and 36% (CL: 8–54%), respectively, with significant heterogeneity [I2=81.2%; Q=95.5 (P<0.001) and I2=83.1%; Q=260.4 (P<0.0001), respectively]. The pooled 2-year survival for surgery independently from the type of surgery was 34% (CL: 16–54%), with significant heterogeneity (I2 =73.6%; Q=178.2 P<0.0001).
---
Discussion
This study assesses survival in patients with MPM comparing surgery to talc pleurodesis. When talc and surgery are compared, the mean survival for patients treated with surgery was higher compared to talc pleurodesis. This is consistent with identifying pleurodesis as a palliative therapy in MPM patients (2). Dyspnea, caused by the accumulation of fluids in the pleural space, is an important symptom among MPM patients which negatively impacts quality of life (5). Talc pleurodesis is shown to be effective, safe and successful in the prevention of fluid accumulation achieving a long-term control with a marked improvement of dyspnea (4).
The studies reporting on 1-year survival are scarce for talc and prevent any firm conclusion; such studies however suggest that surgery is still the nest option, and that EPP patients fare better than P/D patients. There are notable differences in patients treated with one surgical procedure versus the other. Mean age of patients treated with P/D is higher than patients treated with EPP, 60.9 and 57.6 years, respectively. Other patient characteristics such as overall performance status and cardiopulmonary function probably also differ between the patients treated with the two procedures (2). Older patients with decreased mobility and cardiopulmonary function are more likely to be treated with P/D instead of EPP (2); this selection bias has probably affected the overall survival. The high heterogeneity observed when pooling studies likely reflects differences in study design, inclusion criteria, and other selection criteria operated by each investigator when deciding to perform EPP or P/D.
The only randomized controlled trial directly compared the efficacy of VAT-PP and talc pleurodesis in MPM patients (6), reported that overall survival was similar for the two treatment groups; VAT-PP was associated with a longer hospital stay and higher costs than talc pleurodesis. On the other hand, VAT-PP had a significantly better quality of life score at 6 and 12 months than the talc pleurodesis group. The equipoise reported in the clinical trial is probably due to the fact that patients had to be fit enough to undergo VAT-PP to be eligible to be included into this trial. Patients included in this trial were therefore probably in better physical condition than patients receiving talc pleurodesis in the observational studies summarized in this review, which included unselected groups of patients, many of which were probably treated with palliative intent.
This review has some limitations. Only one study directly compared surgery with talc pleurodesis; in general, the number of studies conducted on talc pleurodesis is very small, and makes it difficult to draw any conclusion. Furthermore, the choice for surgery or talc pleurodesis may have been based on clinical reasons, such as the stage of the disease, histology, age of the patient or presence of comorbidities, all factors which are not reported in the publication but may have introduced selection bias and influenced survival. Another limitation is the large amount of heterogeneity between the data sets. This indicates that other factors, such as variations in the procedural approach and execution, the varying ability of surgeons, the degree of specialization of the center performing the procedure, or the inconsistency of data definitions across institutions, may have impacted survival in each study. Finally, we were unable to account for effects of other treatments in addition to surgery or talc pleurodesis because of the retrospective nature of the review.
---
Conclusions
This review shows that there is limited data on the effect of talc pleurodesis compared to surgery in MPM patients with regards to survival rates. A comparison study is necessary to accurately assess the best way to treat MPM patients. Because MPM is an aggressive disease with a poor prognosis, assessment of the quality of life after treatment should be included as an outcome measure.
---
Acknowledgements
None.
---
Footnote
Conflicts of Interest: The authors have no conflicts of interest to declare.
---
References
Cite this article as: Taioli E, van Gerwen M, Mihalopoulos M, Moskowitz G, Liu B, Flores R. Review of malignant pleural mesothelioma survival after talc pleurodesis or surgery. J Thorac Dis 2017;9(12):5423-5433. doi: 10.21037/jtd.2017.11.55